Are you a designer who wants to feel excited looking through your portfolio because you can't believe it's so good?


Obviously
. Sign me up for that. 


Whether it's not knowing all the ins and outs of Photoshop and Illustrator, not having any inspiration or n
ot fully understanding what type of opportunities you could enjoy
if you get your skills on point, there's a lot standing in your way. 


Luckily, the Portfolio to Product Bundle is here for you.


This bundle is perfect for
illustrators, surface designers and letterers
building up their technical skills, working on their portfolio, and learning the ropes of monetizing their work through art licensing and design studios.
THESE COURSES ARE NO LONGER AVAILABLE AS A BUNDLE, BUT THEY ARE AVAILABLE INDIVIDUALLY BY FOLLOWING THE 'LEARN MORE' LINKS BELOW EACH DESCRIPTION.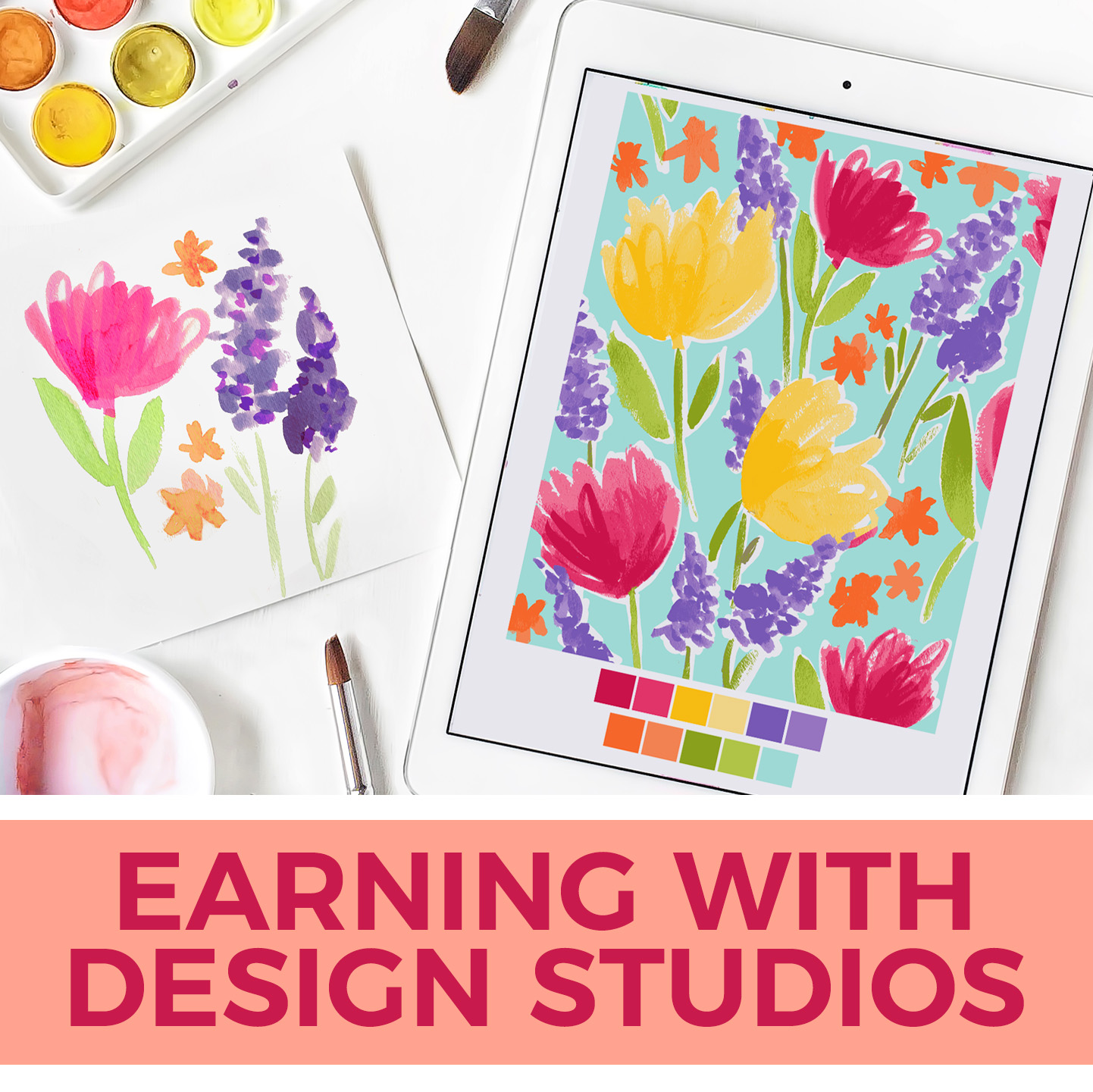 EARNING WITH DESIGN STUDIOS
with ELIZABETH SILVER
Design studios are solely in the business of creating artwork for companies that manufacture products from apparel to bedding to stationery.
And that's a business you want to be in.
If you don't know anything about design studios or you're not sure what they could have to do with you as you build your career in Surface Pattern, this class is for you.
Learn how studios work and sell artwork, why partnering them can be one of the easiest ways to start your surface pattern career and all the dirty details about the potential income, how to pitch yourself to studios, and important questions to ask before signing contracts. By the end of this course you'll be fired up to approach design studios for partnership and be on your way to earning money with your print design skills.
"
Taking Elizabeth's earning with Design Studios class was so informative and it helped me learn what steps to take to find ongoing work with a prominent NY design studio. I've been working with them for
3 years now and they provide a good portion of my monthly income
. Forever grateful for Elizabeth's transparency, guidance, and good information!
!"
--Tracey @noondaydesign
ART LICENSING SUCCESS
with RONNIE WALTER
If you've been wondering if licensing your art is the right fit for you, well, this amazing group of Ronnie Walter's 4 classes is a great place to start out, to grow your creative biz, or refresh your skills. It includes Art Licensing Basics (clearly explained without legal jargon), How to Build the Right Portfolio, How to Find and Work with an Agent, and how licensing your work with manufacturers and using POD companies can co-exist, all delivered in her signature style. Plus, downloadable templates, worksheets and guides that you can use over and over.
Ronnie has licensed hundreds of her designs over the years, led a successful art licensing agency and now coaches artists to find their sweet spot in the market. And she literally "wrote the book" on Art Licensing with License to Draw—How to Monetize your Art through Licensing…and more! and it's included in this offer, updated for 2020!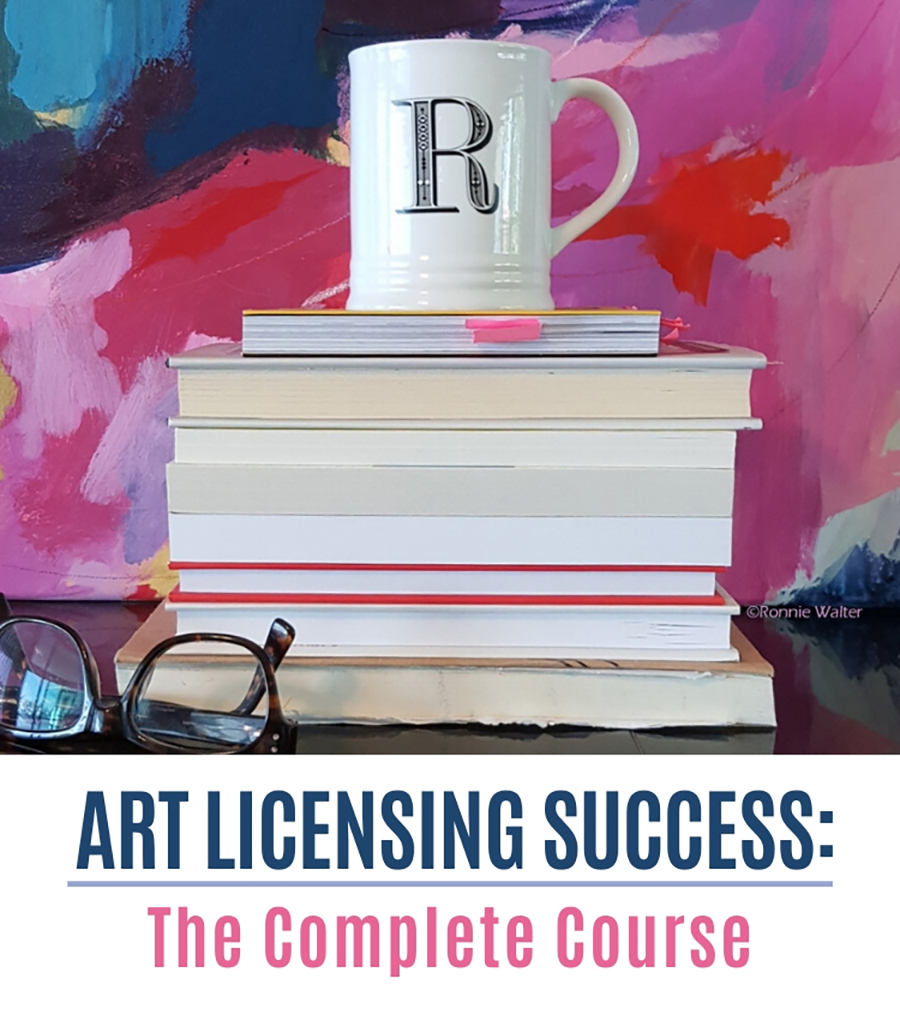 "Take this class! If you are overwhelmed with the process of licensing, this course is for you. It provides focused, manageable steps for submitting work, and lots of extra "insider" information that you can only get from someone who has extensive licensing experience. Ronnie's down-to-earth and humorous teaching style makes classes a pleasure while being incredibly informative. I'll be using this information for the rest of my career as an artist!"
--Sue @suemattero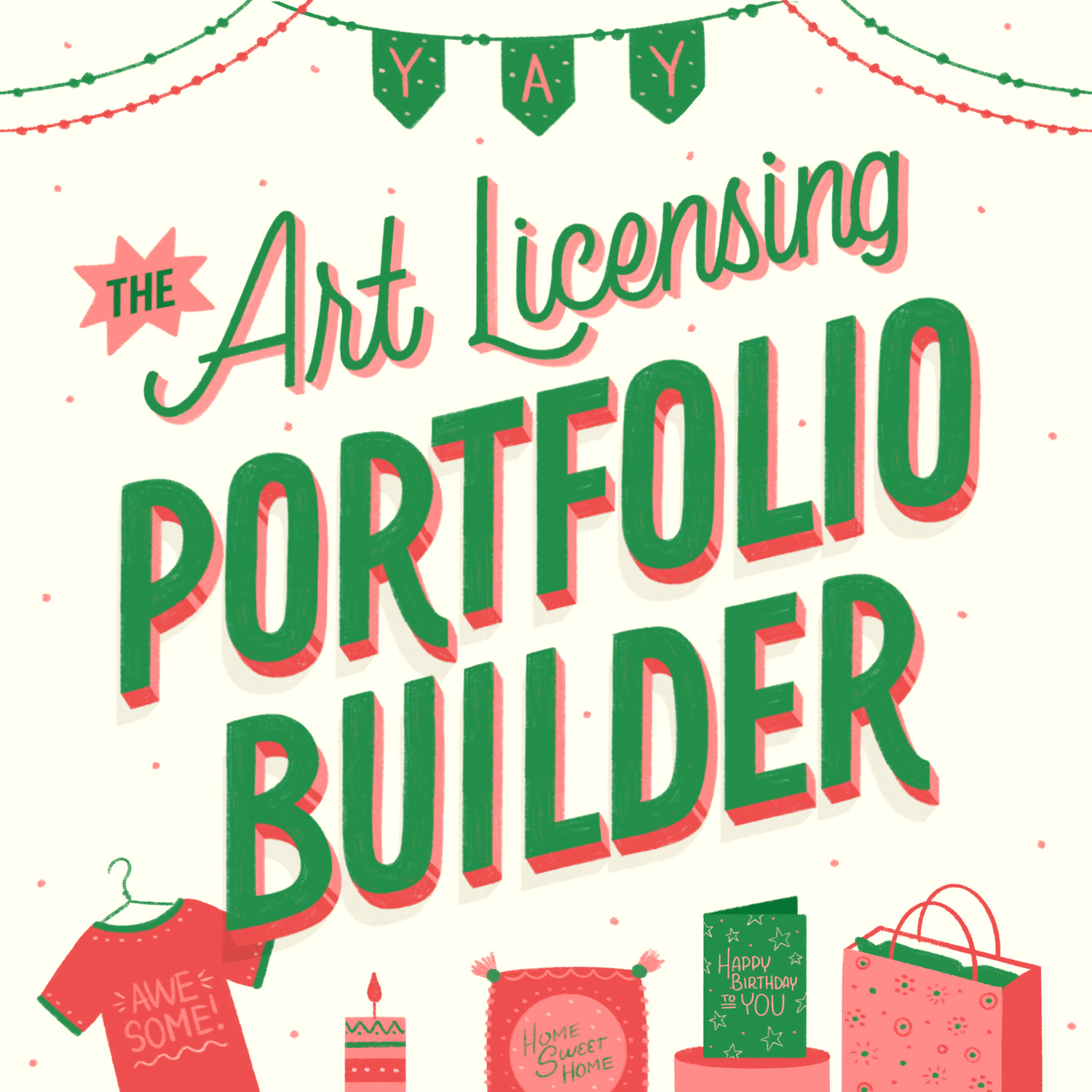 THE ART LICENSING PORTFOLIO BUILDER
with ILANA GRIFFO and KATIE JOHNSON of LOOMIER
The portfolio builder is a strategic (and fun!) collection of 100 prompts to help you build a killer art licensing portfolio. The prompts are curated to help you produce pieces that buyers will LOVE. You'll come away with a portfolio that is practical while showcasing your personal style. Plus, you'll get connect with other students who are building their portfolio alongside you, so you can bounce ideas off each other, and stay inspired. Every prompt comes with headline ideas, a mood board and a suggested color palette to get your wheels turning. We take the stress out of building your portfolio, so you can do what you do best - create!
"I've been having SO much fun with the [Art Licensing] Portfolio Builder! It's exactly what I need to
get me out of my comfort zone and creating new pieces!
"
-- Jessica @jelligun
"Looking into the art licensing world is sooo intimidating, but it's a little less scary if
someone is holding your hand
."
-- Sarah @sarahbethtimmons
ADOBE ILLUSTRATOR FOR SURFACE PATTERN DESIGN
with NATALIE WILLIAMSON of RISE, DESIGN & SHINE
BRAND NEW LIVE COURSE (STARTING JUNE 1st)
Learn how to turn your sketches and doodles into sellable print and patterns, using Adobe Illustrator with ease. Create industry-ready designs for your portfolio in a way that is effective, efficient, and fun!
Natalie will walk you through her process for bringing pencil, ink, paint or Procreate sketches to life as colourful repeating patterns for products.
By the end of the class, you will have everything you need to create a trend-focused technical repeat, unique to you, which is ready to add to your art licensing portfolio.
Along the way, we will look at key aspects of working in the industry, such as finding inspiration, working with trends (trend PDF supplied), effective colour palettes, and ways of streamlining your process.
[ Learn more about Adobe Illustrator for Surface Pattern Design ]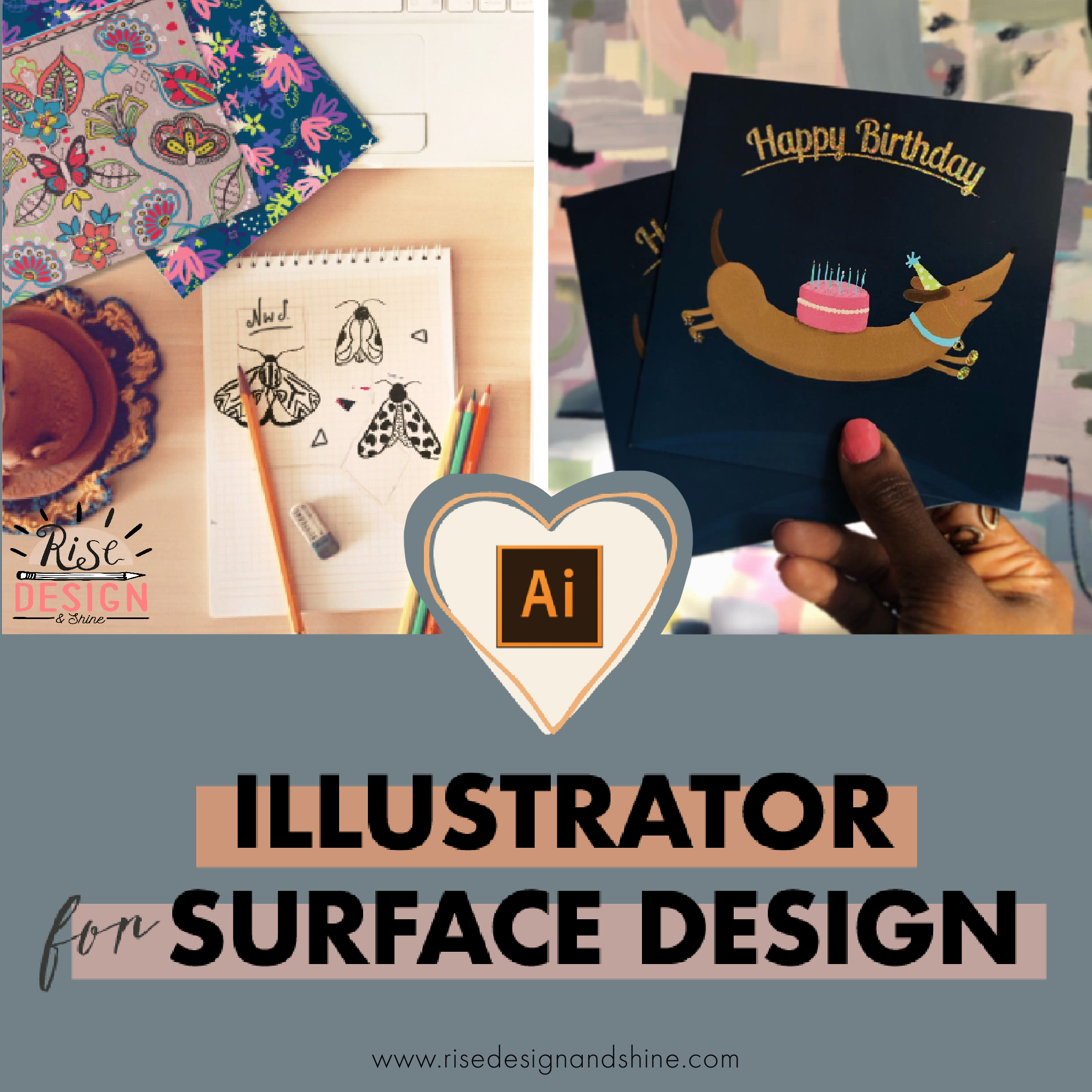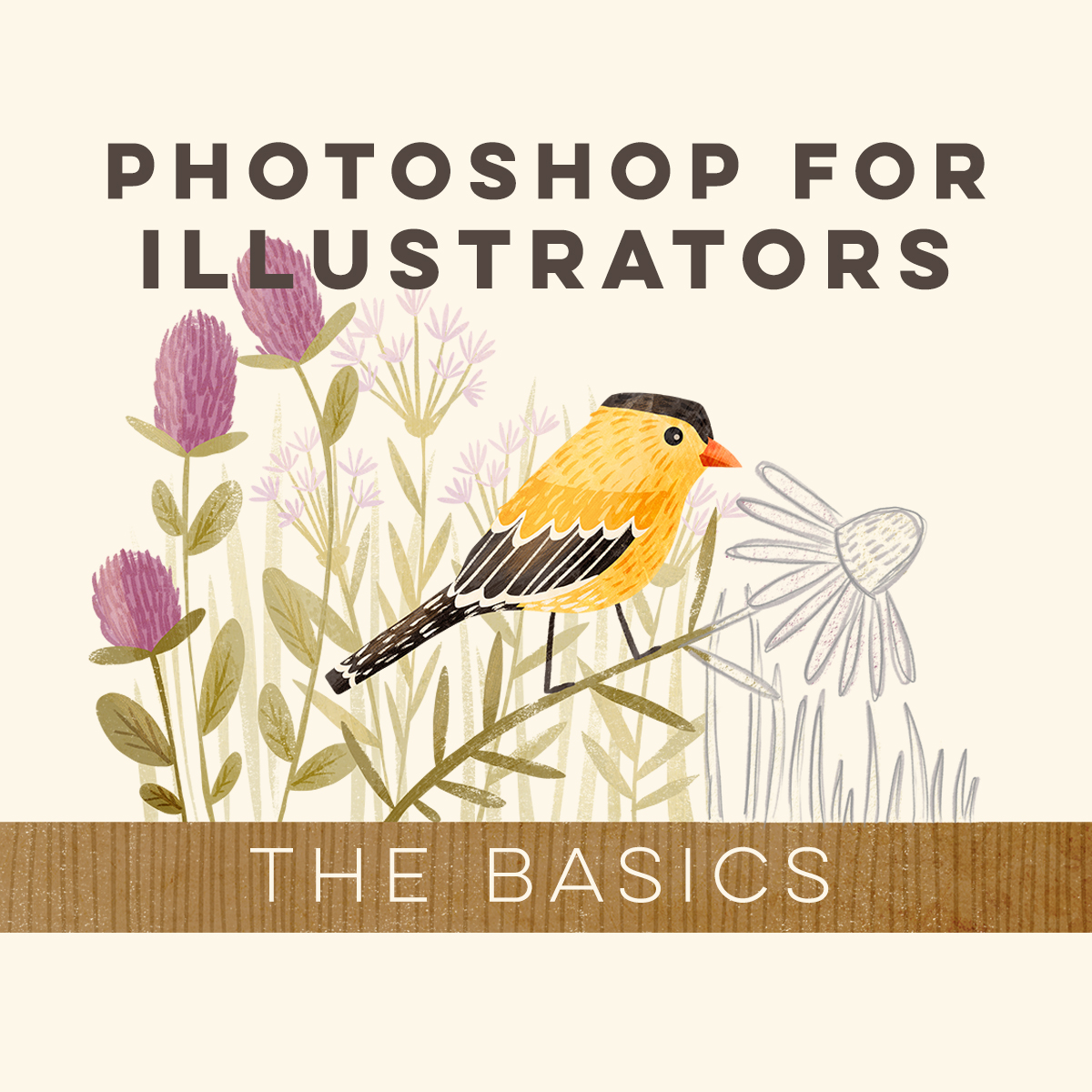 PHOTOSHOP FOR ILLUSTRATORS
with STEPHANIE FIZER COLEMAN
Photoshop for Illustrators: The Basics is the class I wish I had back when I was fumbling around, trying to gain an understanding of how to use Photoshop in my illustration work. If you're brand new to Photoshop or if you need a refresher after a long time away from Photoshop, this is the class for you. We'll start the beginning with setting up your workspace and creating documents and work our way through the various tools you'll use to create illustrations in Photoshop, finishing up with 2 drawing demos so you can see how it all comes together.
[ Learn more about the Photoshop for Illustrators: The Basics ]
"I first began design work using illustrator so
going over to Photoshop seemed the biggest leap until I discovered this class.
It is broken down into bite size chunks so you can fit it in around everything else and easily redo sections. With plenty of examples and clear instructions you're sure to pick it up quickly and easily! I really
loved how you could do this class no matter what experience level you were at, style, anything goes!
"
--Rhiannon @rhiannonpettie
FAQs
Wait, what's included? I'm confused.
For one week only, if you purchase here, you'll gain access to 5 courses as described above: Earning with Design Studios, Art Licensing Success, The Art Licensing Portfolio Builder, Adobe Illustrator for Surface Pattern Design, AND Photoshop for Illustrators.
Will I get instant access to these courses?
Mainly. When you purchase this bundle, you'll get access to the bundle classroom which will have instructions and offer codes to redeem all 5 offers. Four of the offers are available upon redemption. Adobe Illustrator for Surface Pattern Design is a brand new course that's being offered live beginning June 1. More details on that course can be found here.
I've already taken one of these courses, can I get this bundle for a lower price?
Nope. We don't normally discount our courses, so this epic deal is as good as we can offer. If you prefer, you can purchase each offer individually by following the links in each offer description to [ Learn More ] above.
How is the content delivered for all of these courses?
Each offer is different, but in most cases it's a combination of video and downloadable content. 
How long will I have access to these courses?
When you purchase the bundle, you'll be able to sign into the bundle classroom and get redemption codes for each course and offer. These offer codes expire after 6 months, so be sure to follow up and register for each course individually. Length of access to individual courses varies.

If you
▪️

struggle through each design doing things the long way in Adobe Illustrator and Photoshop terrifies you (or vice versa)
▪️

have no idea what to include in your portfolio
▪️

feel hella confused as to what avenues are right for your art
Portfolio to Product Limited Edition Bundle was made for you.